Math Midway Activities
The Math Midway exhibition generates excitement among a diverse group of visitors, ranging from children through adults. While young children enjoy the tactile aspects of the brightly colored and engaging exhibits, older children and adults also come away with a newfound sense of appreciation for the creative nature of mathematics.
There is a range of unique exhibits, from
square-wheeled tricycles
that ride smoothly on a circular track of catenary arcs, to a
plane of laser light
that you can pass plastic polyhedra through to find their surprising cross sections. You can create unique pen and ink drawings to take home using the
Mysterious Harmonograph
. Or play with the
Organ Function Grinder
in which you input a number, set a function, and turn the hand crank to generate both a numerical output and a unique calliope tune which is transformed according to your function.
And if you visited the Math Midway, don't forget to get answers to our puzzles! Click here to learn more about these puzzles!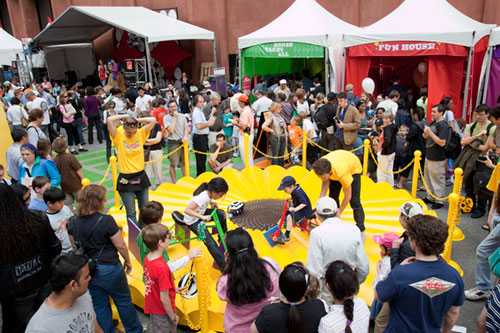 © Copyright Peter Mauss / Esto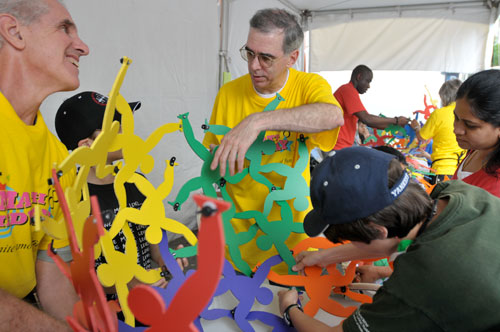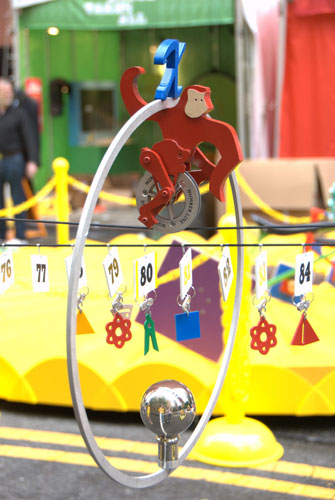 The National Museum of Mathematics is the owner of U.S. Patent Nos. 8,602,790; 9,165,479; and 9,472,120 covering one or more exhibits at the Museum.